For more than 50 years, Decker & Associates, Inc (D&A), a social impact enterprise, has provided unbiased financial education and planning to thousands of families worldwide. Employers, schools, government, and NPOs have retained D&A for ts experienced, professional expertise on retirement, relocation, estate planning, taxes, and investment management.
In 2024, D&A introduces high school students to a Texas approved Personal Financial Literacy & Economics for Real Life. Read the FEEDBACK review by the Texas State Review Panel:
This offering for this newly created and mandated option necessary for graduation from high school in the State of Texas is nothing short of outstanding. We found the presentation of the material engaging, fresh and on-point to allow the teacher to convey the PFL/Econ TEKS/ELPS in a precise yet concise format that students will benefit from enormously. The scope and sequence is advanced which will give the teacher a lot of latitude in selecting their classroom approach. The students will benefit from the comprehensive body of material to learn the subject in a concrete and useful way. The level of rigor is high which might create a stretch goal for a fair percentage of students when taught by the less experienced teacher of either PFL or Economics.
D&A brings real-life and real-world experience to the student. The online curriculum requires students to think, problem-solve, work in teams, complete projects, and take responsibility for their future.
Students begin by setting goals and developing ten-year plans. As they gain an understanding of financial, career, taxes, budgeting, post-secondary funding, employer expectations, compensation, and benefits, they modify their goals, plans, and funding to achieve financial security and independence.
D&A publications are built on a foundation of real-life counseling, not just book knowledge! They are designed to achieve life-changing outcomes and prepare students to succeed in a world of technology and artificial intelligence.
Developing a Financial Plan When Faced with Debts?
In Sept 2023 the press reported that more than 1/3 of families earning more than $150,000 a year are challenged with paying credit card debt. Debt is not just a burden for lower and middle income families.  How do you plan for financial security and to become financially independent when you struggle with debt? What actions can you take?
Decker & Associate, the leader and award winner in personal financial education curriculum
D&A is a boutique publisher of comprehensive, challenging personal financial education and planning material. The publishers have received the FDIC Chairman's Award for Effectiveness in Financial Education and the Purpose Prize Award through AARP for the outcomes achieve through financial education.
D&A offers CTE, social studies, and professional development course with engaging critical thinking, problem-solving and real-life financial, career and postsecondary education funding and selection.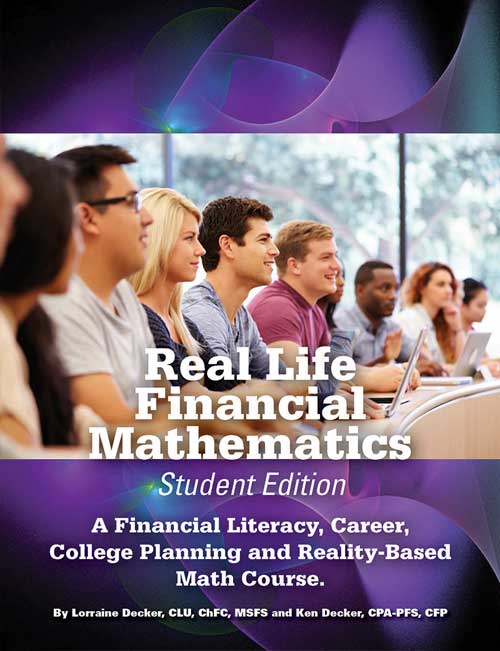 A motivating, one-year, classroom online course providing a Texas high school math credit. RLFM is a TEA approved alternative course to Pre-Calc and Calculus. If Calculus is not required to attend college, RLFM is considered by college counselors to be the better choice.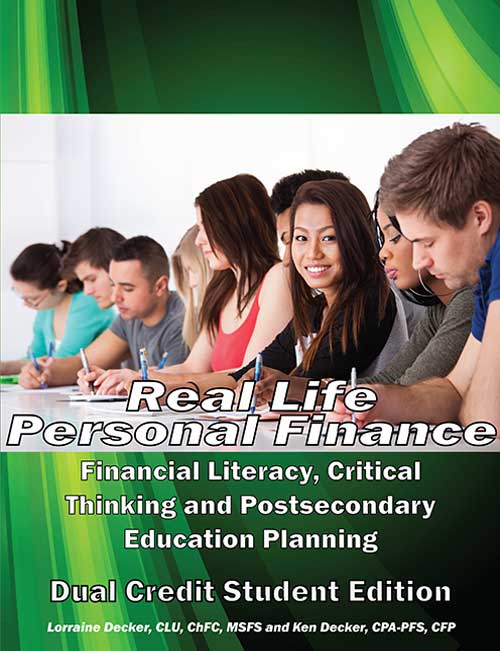 Contents customized for a State's knowledge and learning requirements. Core course is a challenging, one-semester, online financial literacy course for high school / college students.
Setting goals and making plans for the future require open financial communication between parents and their young adult adolescents. Discussions are often heated and consist of "You don't understand!" This online course brings everyone together on the same page with the objective of making complex decisions insightful and producing a win-win outcome.
A one-semester, one-half social studies credit on line course is approved for the Texas high school graduation requirement. This rigorous, yet personally guided course provides comprehensive personal financial education, career discovery, postsecondary selection & funding knowledge integrated with thinking and real-life problem-solving to ultimately achieve financial independence.
Teachers work at their own pace with a financial professional to gain knowledge on how to implement high level thinking and problem-solving instructional methodology with students. Teachers enhance their personal financial and economics knowledge.
A workbook for students preparing for college. Content addresses areas often omitted in  PFL courses - funding college, selecting majors, and identifying financially rewarding careers.