For more than 40 years, Decker & Associates, Inc (D&A), a social impact enterprise, has provided unbiased financial education and planning to thousands of families worldwide. Employers, school districts, government, and nonprofit organizations retained D&A to advise their employees on retirement, relocation, estate planning, taxes, and investment management. D&A has the professional expertise to help individuals plan for the future and become financially independent.
In 2004, D&A created a challenging, thinking, problem-solving personal finance summer course, the Game of Real Life, hosted at Rice University, the University of Houston, Houston Community College, and ten Houston area-high schools, for underserved high school students. The objective was not to entertain students in a fun, fluff course, but to educate and prepare them to make wise real-life decisions.
Eight years later, with outstanding outcomes achieved by Game graduates, Texas Education Agency asked D&A to review the standards for a new financial math course in an attempt to replicate the outcomes for college attendance and completion.
In 2012, Real Life Financial Mathematics (RLFM) was published. RLFM and subsequent Real Life courses provide outcome focused financial education integrated with a Thinking Instructional Methodology to prepare students for the decisions they will make in the knowledge economy of the 21st century. (Texas school districts purchase the courses with state instructional materials funds.)
How Do I Survive This Financial Crisis?
As millions of Americans face medical and financial challenges precipitated by Covid-19, the majority have no emergency funding. Many more hard-working Americans will be unemployed and discover that without employment, they have no medical coverage. What actions can you take to prepare?
Decker & Associate, the leader in personal financial education curriculum
D&A is a boutique publisher of comprehensive, challenging personal financial education and planning material. It offers Texas math, social studies, CTE courses, and educator professional development to prepare individuals for teaching a thinking, problem-solving cause and effect curriculum for making real-life financial, career and postsecondary education funding decisions.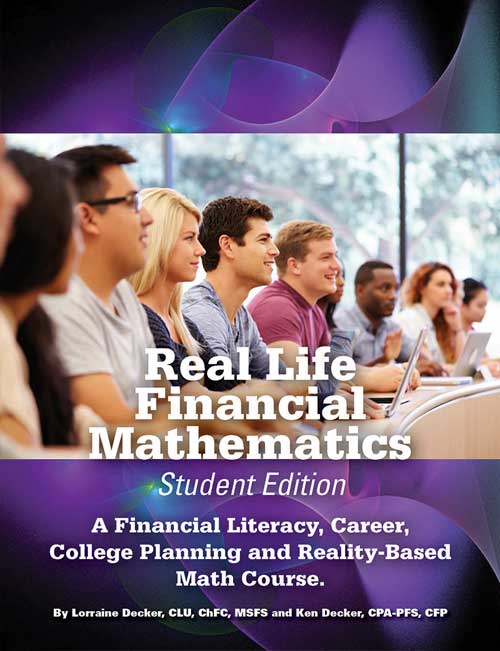 A motivating, one-year, classroom flipped, blended online course using Canvas LMS. Students receive a math credit for this CTE course which engages students in real-life problem-solving. RLFM is a TEA approved alternative course to Pre-Calc and Calculus. If Calculus is not required to attend college, RLFM is considered by college counselors to be the better choice.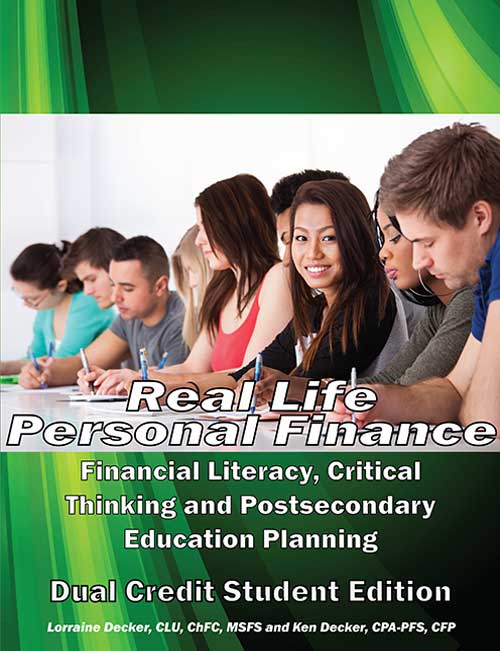 A challenging, one-semester, classroom flipped, blended online, Canvas LMS (license paid by D&A), financial literacy course meeting 100% of TEKS, 100% ELPS, and college content requirements.
Using Canvas LMS (license paid by D&A), educators develop Personal Financial Literacy knowledge and pedagogy for applied thinking and real-life problem-solving. CTE hours - 50 PD1 and 60PD2. WORD TO THE WISE - if you want to teach a fun, fluff, personal financial literacy course and achieve no outcomes, nor change no lives, Real Life is probably not for you.
A one-semester, one-half social studies credit course, for the flipped classroom. This blended online, Canvas LMS course, provides comprehensive personal financial education, career discovery, postsecondary selection & funding knowledge integrated with thinking and real-life problem-solving to ultimately achieve financial independence.
A one semester, Canvas LMS (license paid by D&A), Personal Finance course designed for self-study students in credit recovery, summer programs, gifted and talented and homeschooling.
A workbook for students preparing for college. Content addresses areas often omitted in  PFL courses - funding college, selecting majors, and identifying financially rewarding careers.