Real Life Personal Finance – Dual Credit Version pricing for PEIMS 3380082
Licenses
1-Year License
8-Year License
Student License – ISBN

9780999747711

$50*
$360*
Instructor License – ISBN

9780999747766

$155
$1,240
Stand-Alone Instructor Only License – ISBN

9780999747780

$655
$5,240
Student Licenses are for students who have computers.
The Instructor License assumes a classroom teacher.
*IMPORTANT – Each student and instructor license can be used by a maximum of three students – one in the fall semester, one in the spring and one in the summer.  Therefore, as an example, the cost per student can be as little as $360/24 = $15.00, which is less than the cost of photocopying content for students, excluding instructor time to correlate "free" material with 100% of the TEKS & ELPS and make the "free" material accessible.
The Stand-Alone Instructor Only License is for teachers whose students do not have access to computers, which should rarely occur in dual credit or college classes.
RLPF is a blended online course, updated annually. Decker & Associates pays the licensing fee to Canvas Instructure for this course.
Students who learn how to use this award-winning Learning Management System will be better prepared for the future since each year the percent of online post-secondary courses increases.
Examples – A school district has 100 students in classroom programs. All students are taught by the same teacher.  Their pricing for an 8-year license is  ($360 x 100) + $1,240 = $37,840. * A 10% discount is given on student licenses.
If next year the school has 50 more students and a different teacher, the school pays for $50 x 7 years x 50 licenses $350 x 50 = $17,500. The instructor license for years one through eight was purchased in year one.
A college wants to offer RLPF-DC to students who have computer access. The teacher will instruct five classes and does have access to the school's internet. Each student purchases his own license at $50. Teacher purchases a one year license at $155.
There is no additional fee for Tier II and Tier III work. Students are permitted to renew their licenses for $37.50 / year.
Please complete the CONTACT US form to request licenses or have your instructional materials department send a Purchase Order to Ken@DeckerUSA.com. Call 713-927-9300 Ken Decker, CPA-PFS, CFP should you have any questions.
RLFM is about real life. It is developed by Decker & Associates – award-winning, experienced, financial professionals.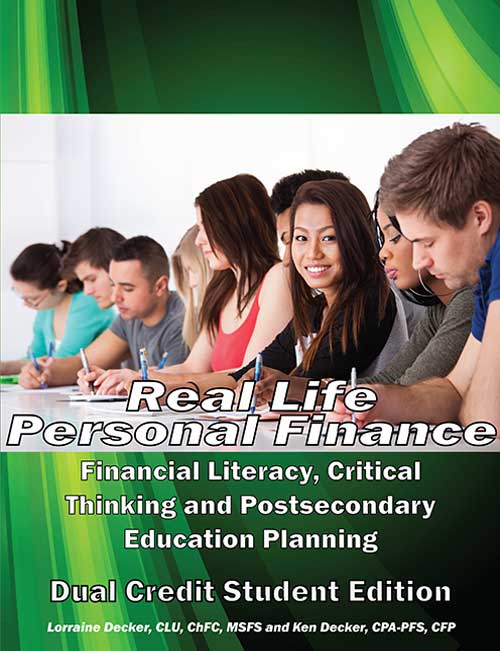 Click on the topics for more information – Table of Contents, Frequently Asked Questions and Pricing. If you have more questions or wish to preview RLFM, please complete the CONTACT US form.