Why should a district offer and a student take RLPF-DC?
Districts and Charter schools in Texas that educate high school students are required to offer a personal financial literacy course. For many reasons, most schools offer a course but do not conduct the course or encourage students to sign-up for it.
Most students state they want real-life education, courses which will prepare them for adulthood and the future. This course does both and could save them from making many mistakes in the selection of careers, college majors, student loans and financial planning for their future. Students should be encouraged to enroll.
Why select Real Life Personal Finance for Independent Study? Seven Reasons
RLPF-DC

 is written by award-winning financial professionals with forty

years of experience in financial education.

RLPF-DC is updated annually. This saves teachers hundreds of hours of additional work trying to identify objective, updated reference material, changing assignments and videos.
With a legislative mandate, RLPF-DC provides a 1/2 social studies credit.
It is approved by the TEA meeting 1

00% of the TEKS and ELPS and accessibility standards.

In addition to acquiring a deep-level of understanding of the subject matter, students are challenged to think, problem-solve, work in teams, make presentations and communicate with adults.
Students develop a plan for their future and make changes now to enhance the ROI for postsecondary education. This translates into outcomes for the district with more students graduating career and college ready, more attending PSE and more graduating from PSE.
Students master Canvas Learning Management Systems. This LMS is frequently licensed by colleges and universities. Using it now is an excellent foundation for online learning.
If you plan on developing your own course, please recognize the time, energy, professional knowledge needed. If a teacher or department head truly had the knowledge, passion, and understanding to write this course, a career change should be recommended. The average income for a financial planner is about $150,000 a year.  D&A developed this course because we are a social impact entity with a mission – we want students to achieve their goals.
What is the role of a teacher in RLPF-DC?
Unlike other high school courses where the instructor often conveys information by a lecture, in this course, the student is responsible for acquiring the information independently. Lessons are flipped with students mastering content and instructors adding real-life perspectives, asking complex questions, observing presentations and how students work as a team. The student will benefit if the teacher is a "student" of personal finance and is willing to learn from the publishers, from friends, and from students. The instructor should want to be increasingly more comfortable with a Socratic method of teaching – loves to ask relevant questions and have the student derive answers. Finally, we suggest a teacher be assigned who believes this course can teach all students how to think and change their future.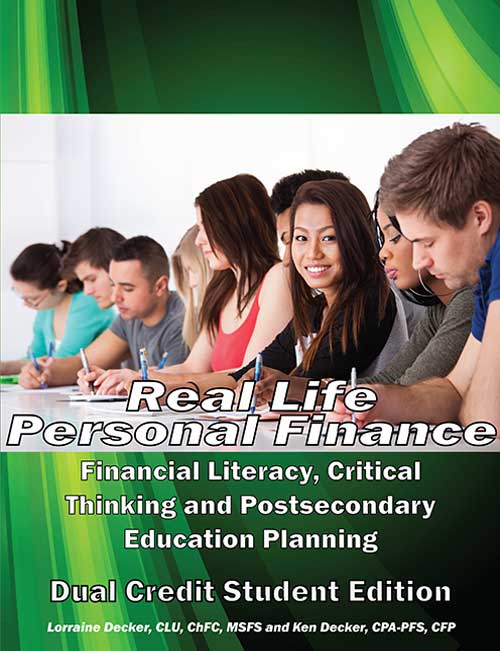 Click on the topics for more information – Table of Contents, Frequently Asked Questions and Pricing. If you have more questions or wish to preview RLFM, please complete the CONTACT US form.