Real Life Personal Finance - Dual Credit
RLPF – Dual Credit is designed for districts with an Early College High School or districts that offer dual credit courses in collaboration with local colleges.  RLPF – DC meets 100% of the TEKS and 100% ELPS.
Legislation requiring personal finance for graduation from a Texas high school is currently in committee. When it passes, the Texas Higher Education Coordinating Board will have to reinstate personal finance as a college level course. Financial math is now accepted as a non-STEM personal finance course.
In the interim, college students state they wish they had had personal finance before entering college. D&A's outcome experience reveals that in-depth personal finance, thinking courses, as in RLPF and RLFM, save students money. But the courses must require the student to plan, take time for proper college selection to assure the student will be a "Big Fish" and graduate, inspire the student to carefully select a major aligned with careers that will provide sufficient income for the student to be financially secure and ultimately independent. All Real Life courses meet these criteria.
Research demonstrates that free online courses and those that are constructed with an entertainment focus, simply do not deliver the impact for students to achieve social and economic transformation for themselves, their families, the district and the community
RLPF for Dual Credit will guide future and current college students in making real-life decisions. It is developed by Decker & Associates, a financial education publisher with award-winning, experienced, professionals.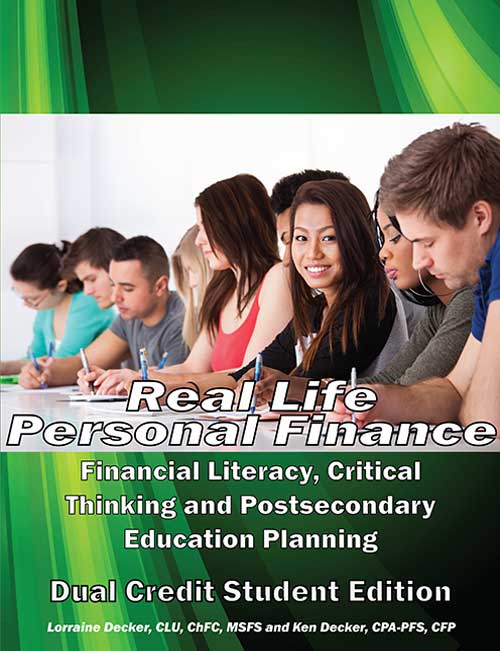 Click on the topics for more information – Table of Contents, Frequently Asked Questions and Pricing. If you have more questions or wish to preview the course, please complete the CONTACT US form.